ECONOMIC OPPORTUNITY RESOURCES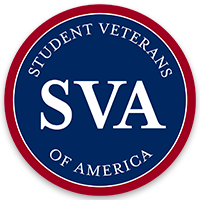 SVA is working with its partners to provide economic, employment, and professional development resources for students affected by the COVID-19 pandemic.
Download resources and materials from SVA to help run an effective chapter in a virtual environment.
Manage Your GI Bill Benefits
NASWA and DirectEmployers Association announced the launch of NeedAJobNow.usNLx.com, a job site dedicated to providing a centralized location for displaced workers to access 400,000 employment opportunities.
Amazon is hiring upcoming and recent graduates for full-time positions across the country.
VA is currently hiring for full-time positions.
Lockheed Martin is offering accelerated military community hiring for over 5,000 open positions.
EY's Service Delivery Center is looking to hire ALL majors to join its highest performing teams. New graduates and those looked for experienced candidate roles are welcomed to apply.
We've teamed up with Amazon to ensure we get you access to their temporary work opportunities that are paying $15/hour or more. There are full-time and part-time opportunities nation-wide. If you don't see jobs near you, be the first to know about new jobs by signing up for job alerts on their website.
Join SVA's Professional Development Community
Student Veterans, SVA Chapters, Alumni, Mentors, Industry Experts, and Employers: join SVA's Professional Development Community—your exclusive career network. This group is the perfect place to ask questions, share opportunities, and hone your skills in a variety of fields. It all starts with adding your voice to the conversation!
Mentorship, Professional Development, and Resume Support
Hiring Our Heroes is hosting a series of virtual events in the coming months with top employers and experts.
VMock, a 24-7 online resume review tool, leverages technologies like data-science, machine learning, and natural language processing to provide instant personalized feedback on your resume based on criteria gathered from employers and global best practices – from anywhere, at any time of day.
Indeed is offering free resume reviews for veterans. Complete the form and you will receive a 10 minute video with suggestions of changes to make, and tips on how to write about your experience to get a job you want.
Veterati is a free mentorship platform for Service Members, Veterans, and Military Spouses to access unlimited mentors.
Columbia University's Center for Veteran Transition and Integration offers several instructional videos on academics, professional development, finance, and other topics.
PwC has published a Digital Fitness app to help you boost knowledge and up-skill across 60 digital trend categories such as AI, blockchain, and social media.
Purepost can help review your resume and understand the value of your military service. Their military-to-civilian translation method helps you define every single position within your military career and connect with employers.
Google VetNet is organizing virtual 1:1 meetings between Google volunteers and veterans, MilSpouses, and transitioning service members interested in reviewing their resume, conducting an informational chat, and/or discussing their career transition. Sign up for a 30-minute sync before June 1.
The Institute for Veterans and Military Families (IVMF) delivers class-leading programs in career, vocational and entrepreneurship education and training, providing service members, veterans and their families with the skills needed to be successful in education, work and life.
FourBlock is a nationwide community of veterans and employers dedicated to supporting returning service members as they begin meaningful careers after the military. They help equip transitioning veterans with professional relationships and career readiness resources.
MVPvets can help you find your career path, engage with mentors, and get matched to jobs in life sciences.
Vetlign is an advanced and innovative job alignment application specifically designed to support veterans and companies looking to hire them. Join an upcoming webinar.
Stryker is one of the world's leading medical technology companies and, together with their customers, is driven to make healthcare better. Read about video interviewing tips.
Lime Connect offers personal and professional tips and resources during COVID-19.
Want to add resources to this page?